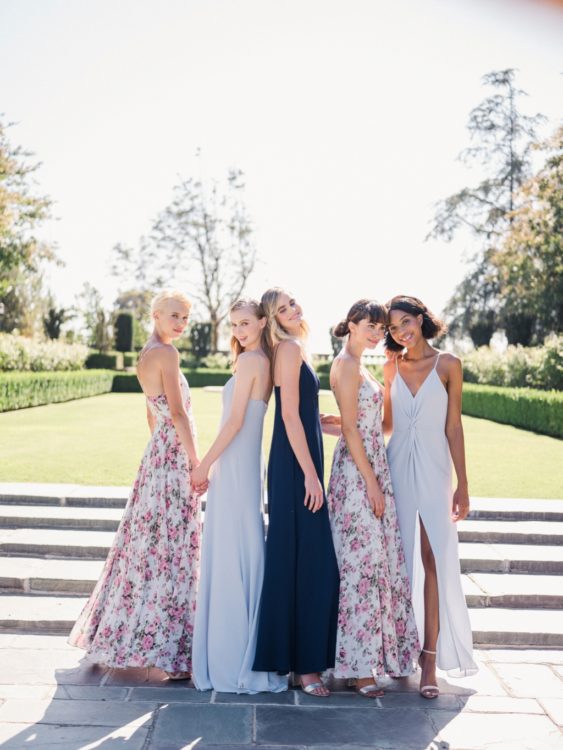 How to incorporate patterns into your bridesmaid dresses
Picking out bridesmaid dresses can be quite a tricky endeavor, but an even more difficult task is figuring out how to incorporate patterns into your bridesmaid dresses. Given all of the other wedding planning questions you might want to turn your attention to, why would you try a potentially complicated task like mixing patterns? With a photographer's perspective, I would like to highlight a few reasons.

The first reason is that if the patterns are carefully chosen, they will photograph really beautifully! Long gone are the days when all bridesmaid dresses had to go perfectly together. In the past few years, you've probably seen the popularity of bridesmaid dresses for bridesmaid dresses of the same color but different necklines and silhouettes. A more daring move is to allow bridesmaids to choose their own dress within a single color palette, so you might end up with different shades of blush. With both options, people often opt for the dresses to be one color. This makes it so that if you choose to have your bridesmaid dresses patterned, you don't have to worry. Your wedding party pictures have an extra dimension and stand out from the rest!

Another reason is that you are more likely to make your ladies happy. A common complaint among bridesmaids is having to buy an expensive dress that they can only wear once. One benefit of choosing a patterned bridesmaid dress is that it looks less like an obvious bridesmaid dress, which, as mentioned above, is often a solid color. This increases the likelihood that your dear friends will be able to wear their clothes again. Even if the dresses are shortened, they can easily pass as cocktail or tea dresses.
Some time ago I was privileged to be shooting a campaign for Joanna August's beautiful line of bridesmaid dresses. Their listings are a great example of how there is a pattern that goes with any type of wedding. Let's take a look:
Floral prints would fit exactly if you are having a garden wedding. With the popularity of floral dresses, you have an abundance of prints to choose from and your bridesmaids will have no problem converting these versatile dresses into dresses that they can wear for other occasions.
[Insert floral dresses here]
I love the sky print on these clothes! The metallic finish adds a touch of shine and whimsy to it, and I can see these dresses are at home at a glamorous hotel wedding.
These watercolor prints are soft, feminine, and add dimension without being distracting. If you want a subtle pattern, look for dresses with small prints or with colors that aren't too contrasting.
If you felt lost in how to incorporate patterns into your bridesmaid dresses, I hope this post inspired you to take the plunge! Well-chosen patterned dresses take pictures beautifully and will be appreciated by your bridesmaids. It's little details like this that can make your wedding really unique. Contact me to learn how I can make your wedding day stand out from the crowd!