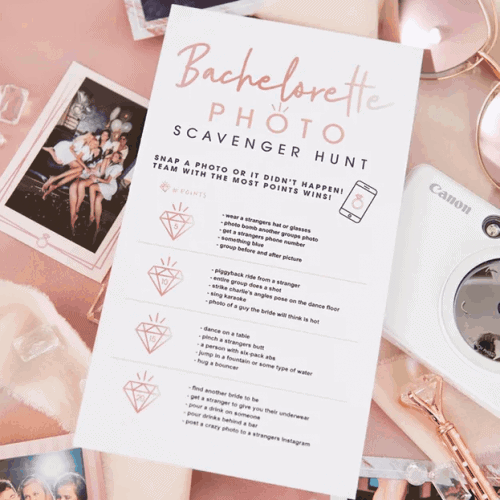 The best ideas for the bachelorette scavenger hunt
Whether you're traveling to a destination or staying in front of the ring for one final scavenger hunt, it should definitely be on your must-do list.
Not only does this fun bachelorette game require the entire group to work together as a team, it also results in some seriously funny photos and memories that will last a lifetime. What more could a future bride ask for?
The only problem you will have is deciding which scavenger hunt to complete. From printable templates to do-it-yourself lists, there's no shortage of fun ideas!
We've even included a quick breakdown of our favorite Bachelorette Scavenger Hunt app for those looking for a more interactive and personal experience.
Printable bachelorette party scavenger hunts
One of the easiest ways to organize your scavenger hunt is to simply download and print out a template made for you.
We did our best to select a variety of styles including free, editable, and photo options:
Free scavenger hunt at the Bachelorette Party
FREE DOWNLOAD
Free Editable Bachelorette Photo Scavenger Hunt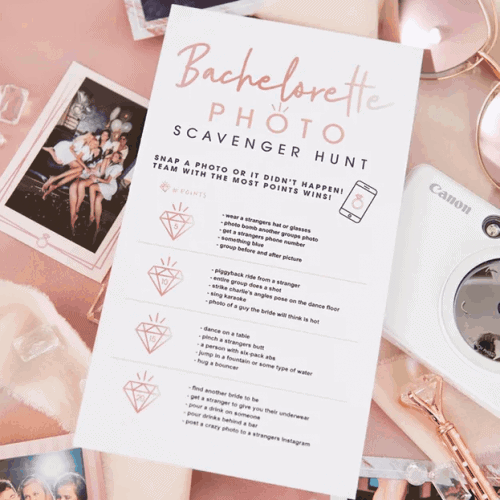 FREE DOWNLOAD
Bachelorette Photo Scavenger Hunt
SHOP ON ETSY
Digital & Printable Bachelorette Scavenger Hunt
SHOP ON ETSY
Virtual Bachelorette Party Scavenger Hunt
BUY IN OUR SHOP
Bachelorette Party Scavenger List
If you want to get creative and make your own scavenger hunt, here is a list of fun challenges for you and your group to complete at the bar:
Have someone buy the bride a shot

Find someone with the same name as the groom

Get a picture with another bachelorette party

Have the DJ play a song for the bride

Dance on the table or in the bar

Get a random man's phone number

Have someone give the bride a lap dance

Propose to a complete stranger

Wear a toilet paper veil

Get advice on marriage from a stranger

Find something old, borrowed, and blue

Ask a man for a condom

Take a body shot by a stranger

Hit someone with a cheesy pickup line

Arm wrestling a muscular guy

Have a man give his boxers to the bride
Step up your scavenger hunt game with these fun photo challenges:
Strike a Charlie's Angels pose with two strangers

Photo bomb the picture of another group

Take a selfie with a stranger and have them post it on Instagram

Take a picture in the men's bathroom

Do a prom pose with a random guy

Have a group of men hold the bride sideways from head to toe

Record a video of someone in your group riding a mechanical bull

Pose with a man showing his abdominal muscles

Have the bartender leave the bride behind the bar for a photo

Make a video of the bride getting a piggyback ride
Bachelorette Scavenger Hunt App
If you're looking for a fully personalized and interactive experience, we recommend Let's Roam – the # 1 Bachelorette Scavenger app.
Your team of event planners and celebration experts will create the ultimate adventure for you and your group with fun photo, video and trivia challenges.
Would you like to know more about it? Check out the How It Works page.
The Best Bachelorette Scavenger Hunt Ideas post first appeared on Modern MOH.