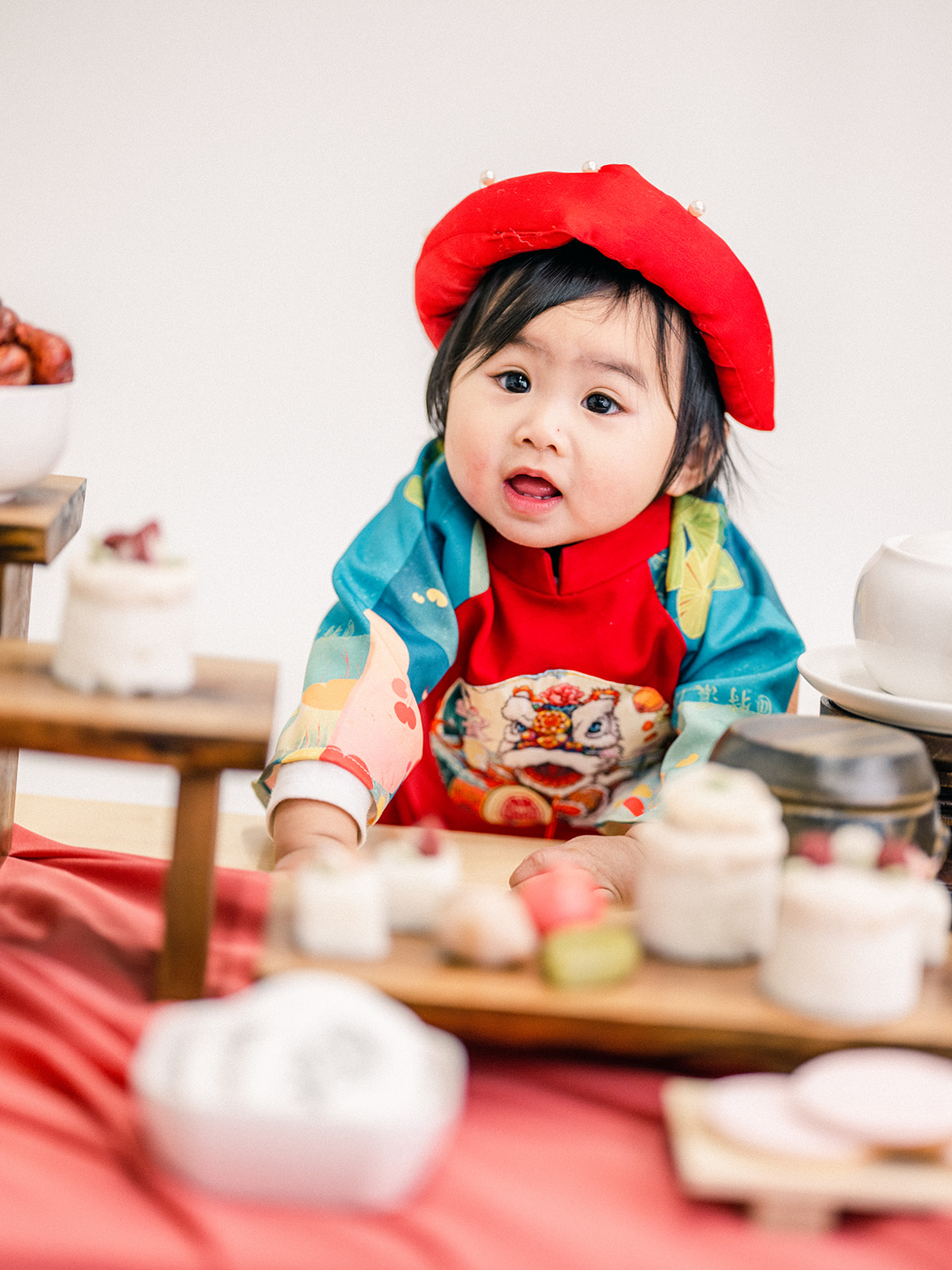 Vietnamese photography for the first birthday in Los Angeles
We had a blast when this Vietnamese first birthday photo session was held in Los Angeles! A baby becoming one is a big thing in Vietnamese culture and is celebrated with an event called Thoi Noi. We'd only previously created sets that reflected Korean traditions, but when one year old Celine's parents reached out to us to create something that reflected their Vietnamese culture, we were honored and excited to adapt!
Mom had her matching traditional clothes called "ao dai", tailor-made in Vietnam. The beautiful hand-stitched designs inspired the custom set we created especially for them – with bright pinks and flowers in our props and decor.
Since this is a custom set, we worked closely with parents to also include items that reflect Celine's personality. We learned from her parents that she is a real fruit lover, so we added fruit motifs wherever we could! Check out the amazing hand-drawn fruits on their traditional rice cakes and the fruit-inspired selection of sweets for their dessert spread.
As if fruit-themed desserts weren't enough temptation for our little fruit lover, we couldn't let a first birthday go by without a funny cake pop! She was a little apprehensive about the cake at first, but after a little careful exploration, she plunged right in, foot and all!
Similar to the Doljabi tradition on Korean first-birthdays, Vietnamese families let their babies choose from a range of objects that indicate their future prospects. Celine first took the abacus, which represents an occupation related to mathematics (e.g. finance, accounting, etc.) and then chose the stethoscope, which of course alludes to an occupation in the medical field. Needless to say, her parents loved her choices!
It was such a fun shoot and we were so proud to work with Celine's parents to produce a set that reflected both her culture and her daughter's personality. We're so in love with this set that we're going to offer it as an option for other shots, with adjustments that are of course adapted to your family! If you are looking for Vietnamese First Birthday Photography in Los Angeles or have any questions about creating a birthday party photo shoot for your baby, please don't hesitate to contact us!