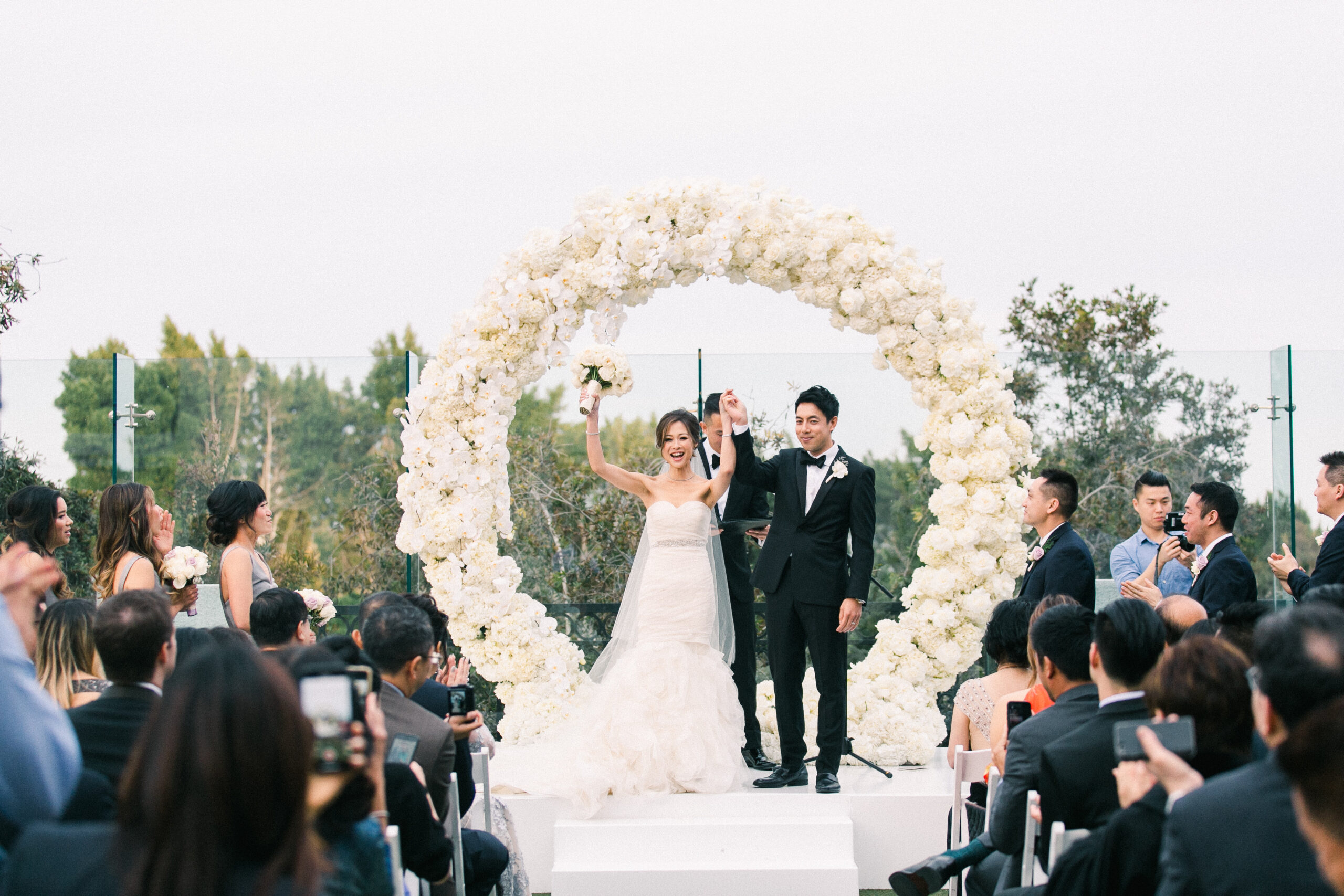 Wedding ceremony flower arch ideas
With so many of you in the middle of your wedding planning, I wanted to stop by and offer some flower arch ideas for the wedding ceremony. Don't underestimate the importance of the altar backdrop to your wedding – it's one of the first things guests see when they walk into your ceremonial room and can help set the tone for the rest of the event. As a photographer, I can tell you that what your wedding photos look like makes a huge difference as it is the backdrop for so many of your wedding pictures. Arches can have cultural and religious significance and can be made with many different shapes and materials. Here we look at a few wedding ceremony flower arches that caught my eye during my years of wedding photography:
A creative interpretation of the wedding ceremony floral arch is to make a circle out of it. Circles are symbolic at weddings, as the endless loop represents eternity (hence the shape of the wedding rings). As we see here at this wedding, an added bonus is that the arch can be used as a decoration for your treasure table at the reception or as part of the backdrop if you opt for a photo shoot area for guests.
This classic seaside wedding included a touch of ombre to make their ceremonial space extra special (though of course it doesn't hurt to have the ocean in the background!). The billowing curtains added natural movement to the arch, and they deliberately held back the amount of flowers in the arch itself to make this possible.
The flower arch for the wedding ceremony does not necessarily have to be in the shape of an arch (especially for a chuppah or mandap). Check out this gorgeous hanging flower rate. Since the pavilion already had arched contours at this Chinese wedding on Pelican Hill, we got to be a little creative and hang our flowers and decorations from the ceiling to really liven up the structure.
I hope these wedding ceremony flower arch ideas have inspired you to work with your florist to create something that will set your wedding apart and take it to the next level. And if you still need a photographer, contact me! I would love to meet you and discuss how we can bring your dream wedding day to life!